Posts for: December, 2017
By Kyle Weedon, DDS
December 18, 2017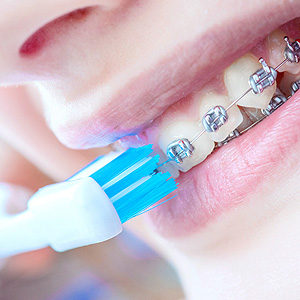 Orthodontic treatment is a big investment. But given the benefits for future good health and a more attractive smile, it's well worth it.
In the here and now, though, braces wearers face a different threat to their dental well-being — dental disease. Wearing braces can actually increase the risk of disease and make it more difficult to fight.
Tooth decay and periodontal (gum) disease, the two most common forms of dental disease, usually arise from plaque, a thin film of bacteria and food particles on tooth surfaces. The bacteria produce acid, which erodes enamel and makes the teeth susceptible to decay. Certain bacteria can also infect the gums and eventually weaken their attachment to teeth. Thorough brushing and flossing everyday removes this disease-triggering plaque buildup.
But braces' hardware can make brushing and flossing more difficult. The brackets attached to the teeth and wires laced through them make it more difficult for floss and brush bristles to access all the areas around the teeth. Plaque can build up in certain spots; it's estimated braces wearers have two to three times the plaque of a person not wearing braces. Acid can also remain in contact with some of the enamel surface for too long.
It's important, therefore, if you wear braces to make a concerted effort to brush and floss thoroughly. Besides improving technique and taking more time, you might also consider additional aids. You can obtain toothbrushes specially designed for use with braces, as well as floss holders or threaders that make it easier to access between teeth. Another flossing alternative is an oral irrigator that sprays water under pressure between teeth is an alternative to flossing.
As a precaution against acid damage, we can boost enamel protection with additional fluoride applied to your teeth. We may also prescribe antibacterial rinses to keep the bacteria population low.
Above all, be sure to look out for signs of disease like swollen or bleeding gums or pain. As soon as you sense something out of the ordinary, be sure and contact us.
If you would like more information on keeping your teeth disease-free while wearing braces, please contact us or schedule an appointment for a consultation. You can also learn more about this topic by reading the Dear Doctor magazine article "Caring for Teeth During Orthodontic Treatment."
By Kyle Weedon, DDS
December 10, 2017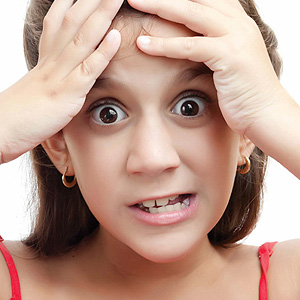 Teeth grinding is one childhood habit that sounds worse than it usually is: often the most harm done is to your night's sleep. That said, though, it's still a habit to keep your eye on.
Also known as bruxism, teeth grinding is so common among children that it's considered normal behavior by many healthcare professionals. As for causes, some suggest a child's immature neuromuscular chewing control may trigger it, while others point to the change from deeper sleep to a lighter stage as a possible cause. Problems like airway obstruction, medications or stress also seem to contribute to the habit.
For most children, teeth grinding usually fades by age 11 with no adverse effect on their teeth. If the habit extends into adolescence, however, there's an increased risk for damage, mainly tooth wear.
This can happen because grinding often produces chewing forces 20-30 times greater than normal. Over time this can cause the biting surfaces of the teeth to wear and reduces the size of the teeth. While teeth normally wear over a lifetime, accelerated wear can pose a significant health risk to your teeth. Any sign of tooth wear in a child or adolescent is definitely cause for concern.
If your child's tooth grinding habit appears to be developing into a problem, your dentist may recommend a few treatment options. The most common is a thin, plastic night guard worn in the mouth during sleep that prevents the upper and lower teeth from making contact. If the suspected cause is airway obstruction, they may refer you to an ear, nose and throat (ENT) specialist to seek treatment for that, as well as other professionals to help with managing stress or medications.
Like thumb sucking, the habit of teeth grinding usually ends with no permanent ill effects. But if you notice it continuing late into childhood or your dentist finds tooth wear or other problems, take action to avoid problems long-term.
If you would like more information on childhood bruxism, please contact us or schedule an appointment for a consultation. You can also learn more about this topic by reading the Dear Doctor magazine article "When Children Grind their Teeth."