Restorative Dentistry in Mineola, TX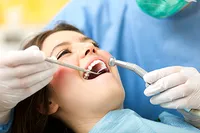 Restorative dentistry, including a full mouth restoration, involves all teeth in the upper and lower jaw. It integrates aesthetic (cosmetic), reconstruction and functional principles. A full mouth reconstruction can include placement of veneers, crowns, bridges, dentures and dental implants.
Typically, general and restorative dentists can provide this procedure, and they can also consult with specialists during the any stage of resotorative dentistry procedures.
Some of these specialists and restorative procedures are listed below:

• Orthodontists – specialize in tooth alignment and jaw movement
• Oral surgeons – experts in face, mouth and jaw surgery
• Periodontists – specialize in diagnosis and treatment of gum issues
• Endodontists – root canal specialists
• Implant Dentistry – used to permanently substitute missing tooth
Decay, dental trauma, occlusion (relationship between upper and lower teeth) issues, gum disease and severely worn teeth can all upset the structure, stability and appearance of teeth, requiring restorative dental treatment.
Full Mouth Dental Restoration Process
Before starting a full mouth restoration, a dentist needs to assess the condition of the teeth, gums, temporomandibular joints and jaw muscles. A basic step-by-step process of full mouth reconstruction is listed here:

• Treat all dental emergencies (broken, chipped or infected tooth)
• Examine patient's oral health
• Develop case for procedure (after assessing the condition of teeth and gums)
• If needed, consult with specialists (see list above)
• Discuss procedure with patient
• Prepare teeth for treatment and take impressions
• Started needed treatment in order of importance
For more information on Restorative Dentistry in the Mineola, TX area call Kyle Weedon, DDS at (903) 569-5818 today!